I hope that today is special for you, however you want to make it special. If you like a dozen long stem roses I hope you get them, if you like diamonds, I hope you get those, if you like Chocolate (like me) I hope you eat some and if you like heart shaped candy with cute sayings I hope you get lots. I like valentines day because it's another reason to tell the people in our lives how lucky we are that they are in our lives.
I love my husband, he is my cool dude. We may have our not so loving moments but I never stop loving him. He is so good at little surprises. One of my favorite things he does is set up my coffee mug in the morning, so sweet. Thanks Baby.
Then there are those sweet little people that make us smile and laugh every single day. It seams almost impossible to love them as much as we do, but we do, every day more and more.The Girls helped me with our very simple but very festive Valentines decoration this year, paper hearts garland.
And is it really Valentines day without a heart shaped food, I think not.

I made it, well actually my husband did, using a heart shaped cookie cutter, please note you must spray the inside of the cookie cutter with non stick for this to work, cooking tip is also thanks to my sweetheart. Thanks Babe.
There are a few people that we want to send a big loving hug to today…Nana, Grandaddy, Safta, Saba, Doda Cilla, Dod Ben, Aunt Tracey, Uncle Sammy, Aunt Mindy, Uncle Bryan, Liliah, Elizabeth, Jacob, heather, Baxter, Colby, Guage, all of our aunts, uncles and cousins and all of our dear friends who are always there when we need their support and friendship and who always amaze us with their generosity and loyalty.
Here's our virtual Valentine for you!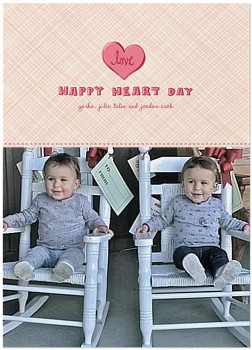 Vintage Heart Valentine's Card
Create personalized invitations and announcements at Shutterfly.
Happy Valentines Day We Love you.
Leave a Reply